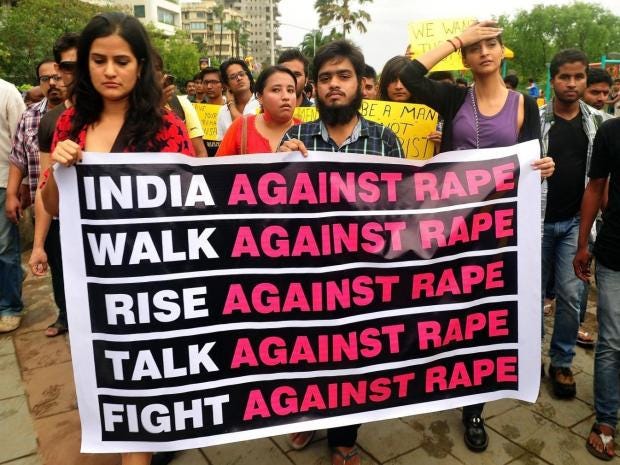 Pupils at an Indian school secretly recorded their biology teacher saying that girls who wear short skirts, jeans and lipstick are asking to be gang raped.
She is also alleged to have said that girls who go out at night with men who are not their husbands are inciting "crimes like that of Nirbhaya gang rape".
Nirbhaya is the name given to a 23-year-old physiotherapy student who was gang raped and murdered on a Delhi bus in December 2012.
The alias, which means "fearless" was given because Indian privacy laws do not allow the press to publish the names of rape victims.
The comments were made during "counselling sessions" to both male and female students at the Kendriva Vidyalaya school in Raipur,  The Times of India reported.
After recording their teacher, pupils wrote down their complaints in an anonymous letter to the school's principal Bhagwan Das Ahire, which claimed that the teacher had caused "mental harassment".
The teacher is also said to have blamed Nirbhaya for her own gang rape and murder, not the men who did it to her.
"When a girl exposes her body, boys think the girl is available and she wants it as she is characterless," she reportedly said. "Girls expose their body only when they don't have beautiful faces.

"Girls have become so shameless, why did Nirbhaya go out so late at night with a boy who wasn't her husband?

"It's difficult to understand why an issue was made of this. Such incidents happened with girls in remote areas frequently. Nirbhaya's mother shouldn't have allowed her to go out so late at night.

"It was Nirbhaya's mistake and not the boys. Girls who face such incidents are cursed and it's a punishment for them."
Concerned parents reportedly met with principal Ahire earlier this week. They have also made a complaint about the teacher to police authorities.
One parent, Dhanuklal Sahu, told The Times of India: "My child and her classmates felt extremely insulted when the teacher kept asserting her opinion in front of boys."
Outrage over sexual assault and rape in India has been mounting since Nirbhaya was killed and her death led to widespread demonstrations.
Eventually the government was forced to introduce tougher punishments for rape, including the death penalty.
However, reports of rape are rising in the country. The police receiving nearly 39,000 complaints in 2016, which was up by 12.4 percent from the previous year.
This week an eight-month-old girl was admitted to a hospital in Delhi in a critical condition after allegedly being raped by her cousin.
Swati Maliwal, chair of the Delhi Commission for Women, said the girl had suffered "inhuman injuries" to her internal organs and had to undergo a three-hour operation to save her life.
In 2016, almost 20,000 cases of child rape were registered in India, which was an increase of 82 per cent from the year before, according to the National Crime Records Bureau.